Contributed by LordTBT at 2:16AM GMT, 18 March 2008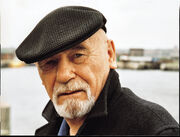 Internet audio vendor Audible.com is listing a recording of Brian Jacques' 2007 New York City tour stop at Symphony Space with author Jon Scieszka, as part of their Thalia Kids' Book Club series. The downloadable audio is 1 hour and 2 minutes in length, with a price tag of $3.95.
The official summary is as follows:
A rollicking conversation between British author Brian Jacques and Jon Scieszka about the newest installment in Jacques' beloved Redwall series: Eulalia!. Redwall's heroes are peace-loving mice, moles, shrews, squirrels, and their friends who exhibit human characteristics in a medieval setting. They face the dark side of the animal world, represented by rats, weasels, stoats, foxes, and their villain allies, in the day-to-day struggle of good versus evil.
In this latest book, Lord Asheye prophesies that a new Badger Lord must take his place and reign over the legendary badger fortress. Brian Jacques shares stories about his boyhood in England, tells how he got the idea for Redwall over 20 years ago, and does hilarious voices for some of his characters. He also answers questions from the audience.
This event was recorded live as part of the Thalia Kids' Book Club series at Peter Norton Symphony Space in New York City. These events feature lively discussions between children's book authors and their fans ages 9-12, led by a variety of special guests. Each event includes a fun writing or drawing exercise and kids' Q&A.
Hear a 4:59 preview of the session below. Brian and Jon talk about Brian's boyhood ambitions to become an author, and how his experiences at school were vastly different than what students today go through.
Brian Jacques and Jon Scieszka, NYC 2007 (
file info
) —

Story Update 3/20/08 4:10AM GMT:
iTunes has added the recording to it's store, with a much more expensive price of $7.95.
Related Stories
Want to keep up-to-date on all the latest Redwall and Brian Jacques news, reviews, and special features? Get social with us!
Ad blocker interference detected!
Wikia is a free-to-use site that makes money from advertising. We have a modified experience for viewers using ad blockers

Wikia is not accessible if you've made further modifications. Remove the custom ad blocker rule(s) and the page will load as expected.