Contributed by LordTBT at 2:25PM GMT, 23 June 2007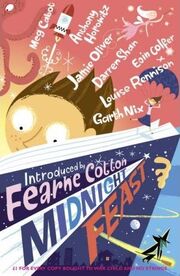 On July 2, 2007, a collection of stories entitled Midnight Feast (ISBN 0007229283) is scheduled for release by HarperCollins; the collection was put together by War Child, a charity to help victims of war who are children.
According to the Amazon synopsis, it is described as the following:
Brand new stories from your fave bestselling authors -- and all for a great cause! The blockbusting, bumper anthology for children is back, in the name of both entertainment and charity. Midnight Feast is packed full of exclusive stories and exciting illustrations -- and best of all, GBP1 for every copy sold goes straight to War Child and No Strings. Featuring an introduction by Fearne Cotton, Midnight Feast includes stories and artwork by the best authors and illustrators in the business. Including: Darren Shan, Anthony Horowitz, Meg Cabot, Eoin Colfer, Garth Nix, Joe Craig, Kath Langrish, Brian Jacques, Oliver Jeffers, Jonathan Stroud, Maeve Friel, Annie Dalton, Margaret Mahy, Helen Dunmore, Chris d'Lacey, Jamie Oliver, Tony Hart and Eleanor Updale!
As it says new stories, it will be interesting to see what Brian will be contributing. The book will cost £6.99 ($13.96), and as the description says, £1 from every purchase will go to the War Child and No Strings charities.
Want to keep up-to-date on all the latest Redwall and Brian Jacques news, reviews, and special features? Get social with us!
Ad blocker interference detected!
Wikia is a free-to-use site that makes money from advertising. We have a modified experience for viewers using ad blockers

Wikia is not accessible if you've made further modifications. Remove the custom ad blocker rule(s) and the page will load as expected.