Contributed by LordTBT at 5:50PM CST, 29 May 2007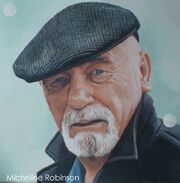 I'm a bit delayed in getting this up, I've been very busy lately.
Recently for a Spirit of Liverpool contest, Brian Jacques was voted one of the top 10 Merseysiders, or people from Liverpool. Because of this prestigious honor, Brian had a portrait painted of him by artist Micheline Robinson, below is an image of Brian next to it.
Thanks Micheline!
Want to keep up-to-date on all the latest Redwall and Brian Jacques news, reviews, and special features? Get social with us!