Contributed by LordTBT at 3:15PM GMT, 7 July 2007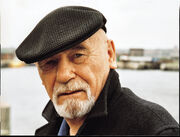 Brian Jacques will be making a New York City appearance this fall, at 1 PM on November 18th at the Leonard Nimoy Thalia at Peter Norton Symphony Space with other children's author Jon Scieszka (known for books like The Stinky Cheese Man and The True Story of the Three Little Pigs) to discuss forthcoming Redwall novel Eulalia!.
Tickets cost $15 ($18 the day of the event); $10 for children ($13 the day of the event).
The event is sponsored by Symphony Space, tickets can be booked here. For Symphony Space members, the cost is only $10.
To see other tour dates for 2007, click here.
Want to keep up-to-date on all the latest Redwall and Brian Jacques news, reviews, and special features? Get social with us!
Ad blocker interference detected!
Wikia is a free-to-use site that makes money from advertising. We have a modified experience for viewers using ad blockers

Wikia is not accessible if you've made further modifications. Remove the custom ad blocker rule(s) and the page will load as expected.