Contributed by LordTBT at 9PM GMT, 02 July 2008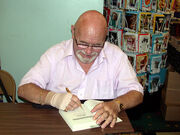 Brian Jacques recently fell and is currently on crutches!
He was scheduled for an appearance next week (July 9) at Pritchard's Bookshop in Formby, however the injury has caused the appearance to be postponed so Brian can rest up and get well for his US tour this autumn.
Crosby Civic Hall is being looked at as a future venue, with a larger, more advertised event possibly in September.
Everyone at the Redwall Wiki wishes Brian a speedy recovery!
Want to keep up-to-date on all the latest Redwall and Brian Jacques news, reviews, and special features? Get social with us!
Ad blocker interference detected!
Wikia is a free-to-use site that makes money from advertising. We have a modified experience for viewers using ad blockers

Wikia is not accessible if you've made further modifications. Remove the custom ad blocker rule(s) and the page will load as expected.