Contributed by LordTBT at 9:08PM GMT, 15 October 2007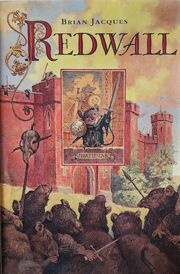 Redwall fan Katie, who recently attended one of Brian Jacques' US tour stops, has been able to reveal more information about Brian's 2008 works!
As we announced last week (and in May), we know there is a new Redwall novel in the works - well now we have a name for the twentieth entry in the saga: Doomwyte.
It is expected for publication in the autumn of 2008.
Additionally, as we knew there was not just one but 2 forthcoming novels from Brian in 2008, I can also confirm that it will be another (the fourth) Castaways of the Flying Dutchman novel!
Thanks Katie!
As a quick reminder, the last time we saw 2 new novels from Brian in the same year was 2003, when Loamhedge and The Angel's Command were published.
Furthermore, I can also confirm that regular David Elliot will be illustrating for Doomwyte, although at this time it is unknown regarding Castaways.
10/16 Update: A bit more information on the origins of the Doomwyte title has surfaced. Apparently, it is based on the myth of "doom whites", a type of foxfire. According to this particular legend, people would follow the lights into the forest, and never be seen again.
If this is any indication of what to expect in the next novel, it sounds cracking!
Related Stories
Want to keep up-to-date on all the latest Redwall and Brian Jacques news, reviews, and special features? Get social with us!