Contributed by LordTBT at 12:52PM EST, 12 April 2007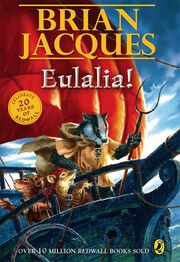 The Redwall Newsline was up early this morning, and managed to find that Penguin has posted the UK Eulalia! cover. You'll notice the little Penguin in the lower right corner; this is generally typical of paperbacks. I'm willing to guess this is actually the paperback cover. I've actually had this cover for a few weeks now but was intentionally withholding it as it was sent to be personally by the artist, David Wyatt, and I certainly didn't want to upset the publisher by releasing it too early.
Wyatt gave me the full unedited version of the cover as drawn by him, and you can see it below. Wyatt told me about his design process:
"Pencil sketches...are scanned and then coloured with a combination of Painter and Photoshop.
This last one was unusually straightforward and took about 3 days. The 2 before that (Rakkety Tam and High Rhulain) were much more complicated and took longer...can't remember exactly how long. Triss is still my favourite."
I just want to remind all readers that the Redwall Wiki does have an advance copy of Eulalia!. If you have questions, feel free to ask.
Related Stories
Want to keep up-to-date on all the latest Redwall and Brian Jacques news, reviews, and special features? Get social with us!
Ad blocker interference detected!
Wikia is a free-to-use site that makes money from advertising. We have a modified experience for viewers using ad blockers

Wikia is not accessible if you've made further modifications. Remove the custom ad blocker rule(s) and the page will load as expected.