Contributed by LordTBT at 1PM EST, 9 March 2007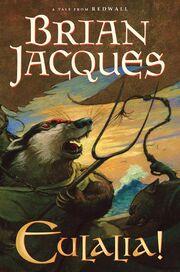 Today I received an advance copy of Eulalia!, and with that, I bring plenty of interesting updates for the book and this year.
First, as you can see by the cover, Troy Howell has once again done a fantastic job.
Second, here is the summary, as provided by the book.
Across the seas comes Vizka Longtooth, with a scurrilous crew of Sea Raiders bound for plunder and conquest. Aboard, a young badger lies captive. The aged Badger Lord of Salamandastron sends forth a haremaid, questing for his successor. A young thief is exiled from Redwall. A Brownrat Chieftain, with his savage horde, ravages Mossflower Country. The fate of all these creatures, both good and evil, is caught up in this saga of war and destiny.
Over the cold Northern Isles, across the heaving seas, sweeping through forest and plain, from the legendary badger mountain to the ancient stones of Redwall Abbey, the warcry thunders out...Eulaliiiiiiaaaaa!
I've only read the first few pages, and I think this is going to be an excellent addition to the saga. Fans hoping for a bigger book: the pagecount is 400, so I hope you'll be satisfied with plenty of story.
As Redwall Wiki administrator Ember first noticed, I can now confirm that Vizka Longtooth is indeed a fox! But as you can tell by the summary above, there is obviously another villain (don't know who he is yet myself).
Furthermore, it looks like we may have another grey character (as indicated by the thief line in the summary).
Additionally for this year, my information tells me the following:
There will be Redwall 20th Anniversary trading cards and posters released.
Redwall.org should be hosting either podcasts or videos featuring Mr. Jacques. I'll be interested in seeing how Dave coordinates that.
More info to come after I complete the book. Fortunately, it arrived in time for spring break! However I will say this: I obviously don't want to spoil the book prior to publication, therefore I will not be revealing too much, but good things come to those who wait.
Want to keep up-to-date on all the latest Redwall and Brian Jacques news, reviews, and special features? Get social with us!
Ad blocker interference detected!
Wikia is a free-to-use site that makes money from advertising. We have a modified experience for viewers using ad blockers

Wikia is not accessible if you've made further modifications. Remove the custom ad blocker rule(s) and the page will load as expected.