Contributed by LordTBT at 7:33AM GMT, 28 March 2008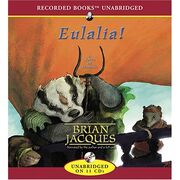 Audible.com is now listing the Eulalia! audio book for download, with a price of $24.49. As we've commented before, this is a continuation of a trend of delayed releases in terms of Brian Jacques material. The last 2 downloadable audio books, High Rhulain and Voyage of Slaves were available shortly after the books were published. Eulalia! is sure to pop up on iTunes in the next day or so. Watch this page for the update, we'll post the link as soon as it appears.
If you haven't heard the audio book yet, catch a preview below.
4m 59s preview of the
Eulalia!
audio book (
file info
) —
Story Update 5:02AM GMT 4/2/08
And it's finally popped up on iTunes, for $21.95.
Related Stories
Want to keep up-to-date on all the latest Redwall and Brian Jacques news, reviews, and special features? Get social with us!
Ad blocker interference detected!
Wikia is a free-to-use site that makes money from advertising. We have a modified experience for viewers using ad blockers

Wikia is not accessible if you've made further modifications. Remove the custom ad blocker rule(s) and the page will load as expected.