Contributed by LordTBT at 9:58PM GMT, 30 June 2007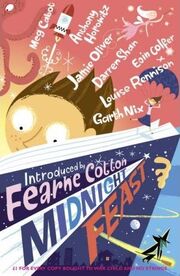 Midnight Feast, the children's anthology compiled by the War Child and No String International charities has been spotted 2 days ahead of scheduled release at Borders!
Brian Jacques, along with 24 other authors, wrote a short story free of charge for contribution in the collection. His story is entitled A Midnight Feast, and is truly a short story indeed as it is only 6 pages long.
The story is composed of a diary entry regarding a late night party that has had everything go wrong, mainly because of the guests, who all happen to be from the land of "Once upon a time" (e.g. Puss in Boots, Georgie Porgey, Little Bo Peep, etc.).
The entry consists of many notorious characters causing calamity after calamity until the final climax where the police appear and we discover who actually has been writing the diary entry and hosted the party!
Jacques takes the characters from well-known poems, stories, and rhymes and puts their situations in a modern day context - which society would generally find unacceptable. The spoof is funny, witty, and silly, all of which can be expected from a Jacques story.
The book is still listed as £6.99 ($13.96), with £1 ($2) from every purchase going to the War Child and No Strings charities. It is worth noting Borders is offering the book at "Buy one get one half price"; so you're donating to the charities twice for less money if you decide to get 2 copies.
The only thing worth any real criticism is the description of Mr. Jacques; each author is given an informational paragraph of about 3-4 sentences. The last sentence states "The latest books in the Redwall series are Triss, Loamhedge, and Rakkety Tam."
We know this is inaccurate as the last book was really High Rhulain.
The chapter illustration shown here below from A Midnight Feast was drawn by Ned Jolliffe.
Related Stories
Want to keep up-to-date on all the latest Redwall and Brian Jacques news, reviews, and special features? Get social with us!
Ad blocker interference detected!
Wikia is a free-to-use site that makes money from advertising. We have a modified experience for viewers using ad blockers

Wikia is not accessible if you've made further modifications. Remove the custom ad blocker rule(s) and the page will load as expected.