Contributed by LordTBT at 10:50PM GMT, 21 December 2007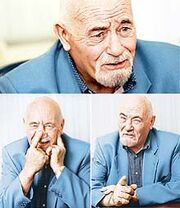 A fan who attended Brian Jacques' October 24th tour stop in La Grange, Illinois, at Border's recorded some footage of the event. The clip is about 6 minutes long, and features Brian's usual introduction regarding Cluny the Scourge coming to take Redwall Abbey. It unfortunately cuts off due to the person holding the recording device being momentarily interrupted. This is a good chance to see Brian in action, on tour.
Brian Jacques in Illinois
Related Stories
Want to keep up-to-date on all the latest Redwall and Brian Jacques news, reviews, and special features? Get social with us!
Ad blocker interference detected!
Wikia is a free-to-use site that makes money from advertising. We have a modified experience for viewers using ad blockers

Wikia is not accessible if you've made further modifications. Remove the custom ad blocker rule(s) and the page will load as expected.