Contributed by LordTBT at 8:50AM GMT, 6 October 2008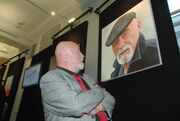 National Novel Writing Month, also known as NaNoWriMo is approaching it's 10th Anniversary this coming November.
If you are unfamiliar with NaNoWriMo, it is an international contest held each year in which participants attempt to write a 50,000 word novel in one month, the month being November.
Famous authors often contribute what are known as "pep talks" to participants, offering what NaNoWriMo describes as "perspectives, encouragement, and experience".
This year, none other than Brian Jacques will be submitting a pep talk, along with Piers Anthony, Kelley Armstrong, Gayle Brandeis, Meg Cabot, Janet Fitch, Katherine Paterson, Philip Pullman, and Jonathan Stroud.
I for one look forward to reading Brian's thoughts.
Check out the NaNoWriMo site at http://www.nanowrimo.org.
Want to keep up-to-date on all the latest Redwall and Brian Jacques news, reviews, and special features? Get social with us!
Ad blocker interference detected!
Wikia is a free-to-use site that makes money from advertising. We have a modified experience for viewers using ad blockers

Wikia is not accessible if you've made further modifications. Remove the custom ad blocker rule(s) and the page will load as expected.