Contributed by LordTBT at 7:55PM GMT, 28 April 2008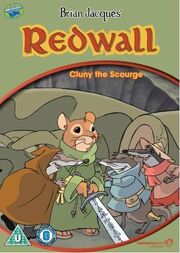 Amazon is listing a Redwall TV Series DVD entitled Redwall - Cluny the Scourge for UK Region 2 audiences, scheduled for release June 9, 2008.
The synopsis is as follows:
Based on the novel by Brian Jacques, REDWALL follows the animated adventures of Matthias, a brave young mouse living in Redwall Abbey. When the abbey is besieged by Cluny, an evil rat, Matthias must draw on the wisdom of a revered warrior and his own courage to save his adopted home.
Based on the listed running time of 65 minutes, it would seem as this is an even further abridged version of 2002 UK DVD release, Redwall - The Movie (1999).
Listed price is £3.99.
Want to keep up-to-date on all the latest Redwall and Brian Jacques news, reviews, and special features? Get social with us!
Ad blocker interference detected!
Wikia is a free-to-use site that makes money from advertising. We have a modified experience for viewers using ad blockers

Wikia is not accessible if you've made further modifications. Remove the custom ad blocker rule(s) and the page will load as expected.