Contributed by LordTBT at 7:07PM GMT, 7 November 2007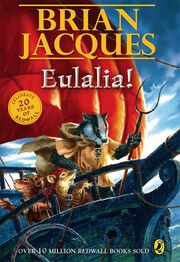 According to a Redwall La Dita Bookshop response to an inquiry from Redwall fan and Long Patrol Club member "Durry Quill", there will not be a UK hardcover edition of Eulalia!, which explains why UK Redwall fans have not seen the book in stores yet.
Instead, Penguin will be importing the book from the United States, which further fuels the idea that Redwall: The Graphic Novel will be imported to Great Britain as well. However, this is uncertain at this time, and remains to be seen. If any UK fans happen to see Eulalia! in a book store, please get in touch and let us know.
Related Stories
Want to keep up-to-date on all the latest Redwall and Brian Jacques news, reviews, and special features? Get social with us!
Ad blocker interference detected!
Wikia is a free-to-use site that makes money from advertising. We have a modified experience for viewers using ad blockers

Wikia is not accessible if you've made further modifications. Remove the custom ad blocker rule(s) and the page will load as expected.