Contributed by LordTBT at 5:11AM GMT, 17 September 2008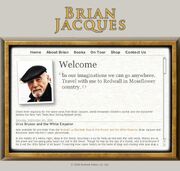 If you haven't been to Redwall.org lately, you should swing on by. Dave Lindsay recently re-designed the site for the first time in a few years to give it a more streamlined look.
Want to keep up-to-date on all the latest Redwall and Brian Jacques news, reviews, and special features? Get social with us!