Contributed by LordTBT at 9:35PM GMT, 8 December 2007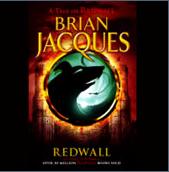 iTunes and Audible.com are listing a re-released version of the Redwall audio book, which appeared on 11/29/07. Except there's one hitch: Brian isn't narrating.
The narrator is Stuart Blinder, a British voice actor.
This is incredibly intriguing, and I'm a bit confused as to why Brian isn't narrating his own book, as usual. The only other time another narrator has read a BJ book occurred in releases of Redwall, Mossflower, and Mariel of Redwall by Recorded Books. At that time, the narrator was Ron Keith.
It completely detracts from the listening experience. Also noteworthy, the Blacksheep UK cover is used. Furthermore, it appears as if this release is strictly digital.
To demonstrate the difference, you can listen to the samples from Brian narrating, and Stuart narrating below.
Brian Jacques narrating Redwall (
file info
) —
Stuart Blinder narrating Redwall (
file info
) —
Want to keep up-to-date on all the latest Redwall and Brian Jacques news, reviews, and special features? Get social with us!
Ad blocker interference detected!
Wikia is a free-to-use site that makes money from advertising. We have a modified experience for viewers using ad blockers

Wikia is not accessible if you've made further modifications. Remove the custom ad blocker rule(s) and the page will load as expected.