Contributed by LordTBT at 8:10PM GMT, 20 July 2007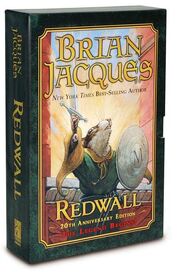 Amazon, as well as Penguin, have released the covers for the anticipated Redwall Gift Package release this October for Redwall's 20th Anniversary.
The books are clearly green in color, with an image inset coming from the original Redwall cover drawn by Troy Howell.
Related Stories
Want to keep up-to-date on all the latest Redwall and Brian Jacques news, reviews, and special features? Get social with us!