Contributed by LordTBT at 12:46AM GMT, 25 June 2007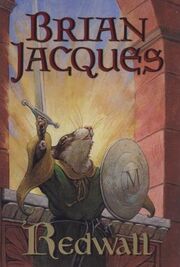 Over the past few months there has been much speculation regarding what new material, if any, the forthcoming Twentieth Anniversary Edition of Redwall will have.
While we still have no real idea what is going on with the inner artwork situation, a Berkley Publishing Group catalogue (they are part of Penguin) describes 2007 as "the year of Brian Jacques" and reveals it will feature a new introduction written by him.
Related Stories
Want to keep up-to-date on all the latest Redwall and Brian Jacques news, reviews, and special features? Get social with us!
Ad blocker interference detected!
Wikia is a free-to-use site that makes money from advertising. We have a modified experience for viewers using ad blockers

Wikia is not accessible if you've made further modifications. Remove the custom ad blocker rule(s) and the page will load as expected.