Contributed by LordTBT at 5:54PM GMT, 01 January 2009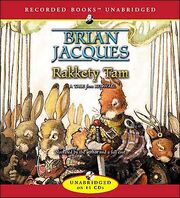 Sean Rubin, the artist for Redwall audio book covers and Redwall.org, as well as Terrouge Productions contributor, has been selected to illustrate the 21st entry in the Redwall saga, The Sable Quean!
Sean confirmed this to me via e-mail, where he mentioned that the book is giving him "plenty of opportunities to draw hares".
He also shared the following about his drawing process, and what to expect in some illustrations:
"I've also had the chance to pose a friend playing the violin for one of the earlier chapters. And I've bought a plastic battle axe as a prop for another illustration. Illustrating can be pretty solitary, so I try to include friends in big--and small--projects. With Redwall projects, everyone's always interested to know what sort of animal they're going to be."
According to Sean, nothing in regards to his job as audio book cover artist has changed, so at this time we should continue to expect those from him as well.
Sean Rubin will be replacing David Elliot, who has illustrated 7 Redwall novels total, and the past 6.
The Redwall Wiki offers a hearty congratulations to Sean for his new Redwall role, and we look forward to seeing your artwork!
Note: This article edited on 1/2 to clarify Elliot's role.
Related Stories
Want to keep up-to-date on all the latest Redwall and Brian Jacques news, reviews, and special features? Get social with us!
Ad blocker interference detected!
Wikia is a free-to-use site that makes money from advertising. We have a modified experience for viewers using ad blockers

Wikia is not accessible if you've made further modifications. Remove the custom ad blocker rule(s) and the page will load as expected.