Contributed by LordTBT at 5:40PM EST, 18 April 2007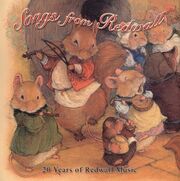 The Redwall.org La Dita Bookshop has officially released the new Songs from Redwall cd, which is available for the price of £7.00, which is about $14 US.
Related Stories
Want to keep up-to-date on all the latest Redwall and Brian Jacques news, reviews, and special features? Get social with us!