Contributed by LordTBT at 11:06PM EST, 14 April 2007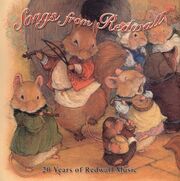 According to Dave Lindsay, the Songs from Redwall CD will be available from the Redwall La Dita Book Shop around early-mid next week. The following consists of a complete tracklisting for the album, as well as the album art, which was drawn by Christopher Denise. Thanks Dave.
There are almost 50 tracks; the music was composed by Liverpudlian Billy Maher, who has made over 15 solo albums over the years. He worked at BBC Radio Merseyside with Brian Jacques.
Introduction - Mariel of Redwall
Rappity Tap - Loamhedge
Song of the River - Salamandastron
Dingle Duck - Taggerung
Stars and Moon - Taggerung
Log A Log - Loamhedge
Ladies - Loamhedge
O'er the Hills - Loamhedge
Plant Song - Outcast of Redwall
Dungle Drips - Loamhedge
Tilly the Wild - High Rhulain
Frog Song - Rakkety Tam
Worm Song - High Rhulain
Skilly and Duff - High Rhulain
Dawn - Loamhedge
Paddling - Salamandastron
Education - Triss
Pull Boys Pull - Salamandastron
Peaceful Night - High Rhulain
Martin - Salamandastron
Summer Sun - Triss
Tramp Tramp Tramp - Rakkety Tam
Footlecum Dur - Triss
Barnacles - High Rhulain
Sleep Baby Sleep - Taggerung
Honey - Triss
Mouse and Mole - The Bellmaker
Rose Song - Loamhedge
Winter O - Mariel of Redwall
Algy and Bobbs - Rakkety Tam
Shrum - The Bellmaker
Lark Song - High Rhulain
To Table - Mattimeo
Rakkety Tam - Rakkety Tam
Me Mammy - Rakkety Tam
Moles Song - Martin the Warrior
Paws - Taggerung
October Ale - The Long Patrol
Slumber On - Rakkety Tam
My Caterpillar - Outcast of Redwall
Laddie Buck - High Rhulain
Gates of Spring - Outcast of Redwall
Little Ones - The Long Patrol
Walla Walla - Rakkety Tam
Good Fortune - Loamhedge
Goodnight - Mariel of Redwall
Home - Outcast of Redwall
Related Stories
Want to keep up-to-date on all the latest Redwall and Brian Jacques news, reviews, and special features? Get social with us!
Ad blocker interference detected!
Wikia is a free-to-use site that makes money from advertising. We have a modified experience for viewers using ad blockers

Wikia is not accessible if you've made further modifications. Remove the custom ad blocker rule(s) and the page will load as expected.