Contributed by LordTBT at 10:13PM GMT, 11 December 2007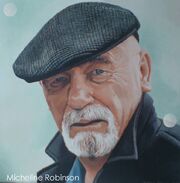 This past spring, Brian Jacques was honored as one of the top ten greatest Merseysiders, or people from Liverpool in the Liverpool Echo's Spirit of Liverpool contest. With this prestige, a portrait of Mr. Jacques was painted by artist Micheline Robinson.
Yet another effort is underway to immortalize the top 100 Merseysiders - all of their names will be inscribed into a wall of fame located outside of the Liverpool Echo Arena, a new venue which is currently scheduled to open in early 2008.
Congrats again to Brian!
Related Stories
Want to keep up-to-date on all the latest Redwall and Brian Jacques news, reviews, and special features? Get social with us!
Ad blocker interference detected!
Wikia is a free-to-use site that makes money from advertising. We have a modified experience for viewers using ad blockers

Wikia is not accessible if you've made further modifications. Remove the custom ad blocker rule(s) and the page will load as expected.