Contributed by LordTBT at 8:17AM GMT, 29 February 2008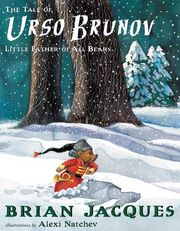 Almost 2 weeks ago it was announced that a sequel to The Tale of Urso Brunov: Little Father of All Bears entitled Urso Brunov and the White Emperor is scheduled for publication later this autumn.
Thanks to the Library of Congress, we now know some details regarding the plot:
Orso [sic] Brunov, the Little Father of All Bears, who stands no bigger than your thumb and always keeps his promises, saves two lost polar bears with the help of some of his friends.
Obviously "Orso" is a typo, however it looks like the mysterious "White Emperor" will be some sort of snow-dwelling creature. Updates to continue as we get them.
Related Stories
Want to keep up-to-date on all the latest Redwall and Brian Jacques news, reviews, and special features? Get social with us!
Ad blocker interference detected!
Wikia is a free-to-use site that makes money from advertising. We have a modified experience for viewers using ad blockers

Wikia is not accessible if you've made further modifications. Remove the custom ad blocker rule(s) and the page will load as expected.