Contributed by LordTBT at 11:53PM GMT, 23 July 2007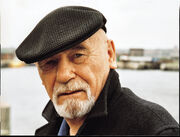 A few updates for forthcoming things related to Brian this year and next.
First, this year.
For Mr. Jacques' second known US tour stop of 2007, he will be in Pittsburgh at the Carnegie Library Lecture Hall at 10:30 AM, Saturday October 20th.
The event description is as follows:
Brian Jacques' cast of mice, moles, rabbits, otters, squirrels, and hawks mesmerize kids, earning him the title of "master of the animal fantasy genre." He adds Eulalia this year; it's the 20th anniversary of his Redwall series, likened to Harry Potter books in length and quality of nose-burying intrigue. Jacques tells Publishers Weekly "there is no place I'd rather be than within the world that I've been lucky enough to create."
There is no known cost as this time, so it may be free to attend!
Next, some 2008 news:
Brian has written the introduction for a Puffin re-issue of the Kenneth Grahame 1908 classic The Wind in the Willows.
Why this tale, some may be wondering. It actually bears special significance to BJ. He has stated in many interviews that the story is a favorite of his, and often times Grahame's work is paralleled to Jacques' and vice versa; after all, with characters like Mole, Mr. Badger, and Mr. Toad, how can it not be?
I'm looking forward to reading Brian's thoughts on the impact Grahame has had on him. The re-issue is scheduled for release March 27, 2008. ISBN 014132113X The cover is below. It seems that this is just going to be a UK release, but I could be wrong.
Also in 2008 is another Firebird High Rhulain paperback re-issue in the UK, which some keen observers may have already noticed on the 2008 page with a scheduled release date of March 13th. We now have the cover, which closely resembles the American Troy Howell hardcover, with a few textual additions and what appears to be a slight font and color change in the title. This is also below, and the original is there for comparison.
Want to keep up-to-date on all the latest Redwall and Brian Jacques news, reviews, and special features? Get social with us!
Ad blocker interference detected!
Wikia is a free-to-use site that makes money from advertising. We have a modified experience for viewers using ad blockers

Wikia is not accessible if you've made further modifications. Remove the custom ad blocker rule(s) and the page will load as expected.