Pasque Valerian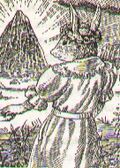 Pasque Valerian was known to be one of the prettiest hares on the mountain of Salamandastron. Pasque was also a talented healer. Along with ten other members of the Long Patrol, she tracked a band of Rapscallions that had been shipwrecked. The vermin were journeying overland when they encountered Tammo along his guide and friend Russa Nodrey. Russa and Tammo were both captured by the shipwrecked Rapscallions and were about to die when Pasque and the Long Patrol dashed in. Throughout the rest of the story, Tammo and Pasque were inseparable, and eventually married.
During the battle on the Ridge of a Thousand Tammo took a spear in the leg; despite Pasque's excellent skills, she could not heal his limp.
Trivia
Ad blocker interference detected!
Wikia is a free-to-use site that makes money from advertising. We have a modified experience for viewers using ad blockers

Wikia is not accessible if you've made further modifications. Remove the custom ad blocker rule(s) and the page will load as expected.