Queen Amballa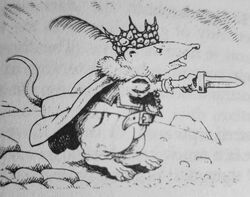 Queen Amballa (or Ballamum as she was otherwise called) was the Queen of the pygmy shrew colony that lived on the cliffs north of Fort Marshank. She had a son named Dinjer and a husband who had been carried off by a gannet and was presumably eaten. She imprisoned Martin the Warrior, Rose, and Grumm Trencher for a short while. After Martin saved Dinjer from another gannet, she set them free, including Pallum. Her sword supplied Martin with a weapon until he recovered his own sword. Later, she was recruited by Boldred to join Martin in the Battle of Marshank.
Ad blocker interference detected!
Wikia is a free-to-use site that makes money from advertising. We have a modified experience for viewers using ad blockers

Wikia is not accessible if you've made further modifications. Remove the custom ad blocker rule(s) and the page will load as expected.