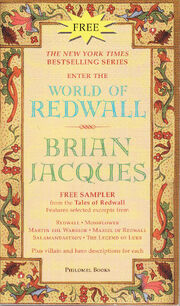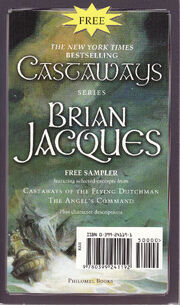 The Redwall/Castaways Sampler was published in 2005 by Philomel to introduce new readers to the Redwall and Castaways of the Flying Dutchman series by providing chapter excerpts from various books. It was originally given away for free in bookstores.
The Redwall/Castaways Sampler was featured in the Redwall Collectors Community series.
Summary
Chapters one and two are provided from six Redwall and two Castaways books to entice the reader to read them.
The Redwall books include Redwall, Mossflower, Martin the Warrior, Mariel of Redwall, Salamandastron, and The Legend of Luke.
The Castaways books include Castaways of the Flying Dutchman and The Angel's Command.
Villain and hero descriptions are also included.
Heroes of Redwall
Villains of Redwall
Ad blocker interference detected!
Wikia is a free-to-use site that makes money from advertising. We have a modified experience for viewers using ad blockers

Wikia is not accessible if you've made further modifications. Remove the custom ad blocker rule(s) and the page will load as expected.