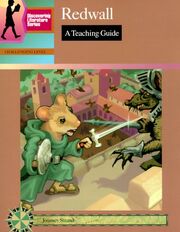 Redwall: A Teaching Guide was published in 2000 by Garlic Press. It was written by Mary Elizabeth Podhaizer and illustrated by Kathy Kifer.
Summary
This book was written to help teach the novel Redwall to students. It includes many activities and worksheets for use in a classroom. It is not known for certain whether it has been authorized by Philomel or Brian Jacques.
Ad blocker interference detected!
Wikia is a free-to-use site that makes money from advertising. We have a modified experience for viewers using ad blockers

Wikia is not accessible if you've made further modifications. Remove the custom ad blocker rule(s) and the page will load as expected.