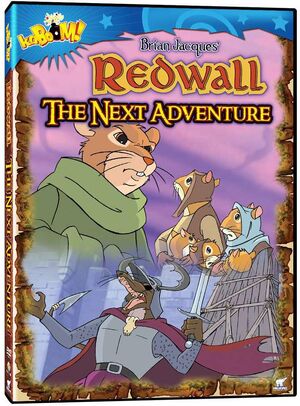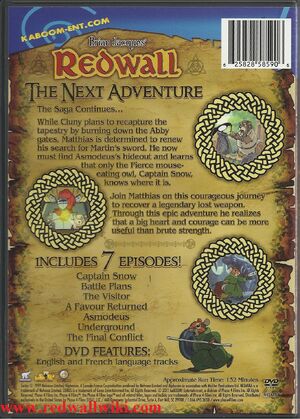 Redwall: The Next Adventures is the second Redwall TV Series Region 1 DVD release since 2006, due to an agreement between Nelvana and Phase 4 Films. It is a re-release of 2004's Redwall - The Next Adventure, and as such contains episodes seven through thirteen of season one.
The official product summary is as follows:
While Cluny plans to recapture the tapestry by burning down the Abby [sic] gates, Matthias is determined to renew his search for Martin's sword. He now must find Asmodeus's hideout and learns that only the Fierce mouse-eating owl, Captain Snow, knows where it is. Join Matthias on this courageous journey to recover a legendary lost weapon, and watch as he develops the friendship between his beautiful and brave mousemaid, Cornflower. Through this epic adventure he realizes that a big heart and courage can be more useful than brute strength.
Episodes
Feature
Ad blocker interference detected!
Wikia is a free-to-use site that makes money from advertising. We have a modified experience for viewers using ad blockers

Wikia is not accessible if you've made further modifications. Remove the custom ad blocker rule(s) and the page will load as expected.