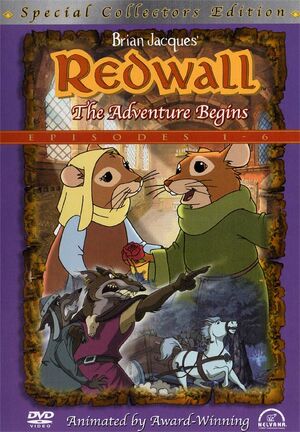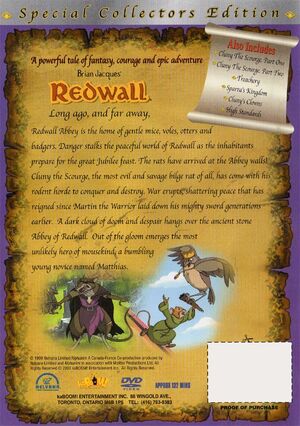 Redwall - The Adventure Begins is a DVD that includes the first six episodes from the first season of the Redwall TV Series.
The official product summary is as follows:
Long ago, and far away, Redwall Abbey is the home of gentle mice, voles, otters, and badgers. Danger stalks the peaceful world of Redwall as the inhabitants prepare for the great Jubilee Feast. The rats have arrived at the Abbey walls! Cluny the Scourge, the most evil and savage bilge rat of all, has come with his rodent horde to conquer and destroy. War erupts, shattering peace that has reigned since Martin the Warrior laid down his mighty sword generations earlier. A dark cloud of doom and despair hangs over the ancient stone Abbey of Redwall. Out of the gloom emerges the most unlikely hero of mousekind, a bumbling young novice named Matthias.
Episodes
Cast
Matthias.... Tyrone Savage
Cornflower.... Alison Pill
Basil Stag Hare.... Richard Binsley
Cluny the Scourge.... Diego Matamoros
Ad blocker interference detected!
Wikia is a free-to-use site that makes money from advertising. We have a modified experience for viewers using ad blockers

Wikia is not accessible if you've made further modifications. Remove the custom ad blocker rule(s) and the page will load as expected.