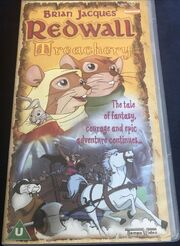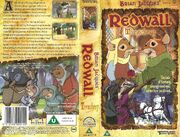 Redwall - Treachery is the first in a set of VHS's that contain the Redwall TV series. They have been released in the UK by Tempo Video.
Region: 2
Running time: 65 min
Release Date: September 25, 2000.
Note: The original cover for this VHS tape displayed several characters, or versions of characters, from Mattimeo the second season of the series, by mistake. A revised version of the cover was released later on.
Episodes
This VHS includes three episodes from the Redwall TV Series:
Cast
Ad blocker interference detected!
Wikia is a free-to-use site that makes money from advertising. We have a modified experience for viewers using ad blockers

Wikia is not accessible if you've made further modifications. Remove the custom ad blocker rule(s) and the page will load as expected.