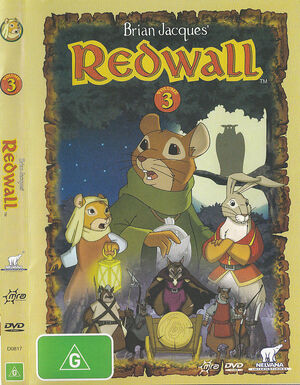 Redwall - Vol. 3 is the third in a set of eight DVDs released in Australia that contain episodes from season one and season two of the Redwall TV Series.
The official product summary is as follows:
The delightful world of Redwall - its characters and their positive endearing qualities of humour, companionship and courage - has earned the dedication of millions of readers worldwide, and now it is brought to life in this spectacular animated series.
It follows the odyssey of Matthias, an innocent and bumbling young mouse destined to be the unlikely hero and great defender of Redwall, the English cathedral which has been home to a community of peaceful mice for generations.
Episodes
Cast
Ad blocker interference detected!
Wikia is a free-to-use site that makes money from advertising. We have a modified experience for viewers using ad blockers

Wikia is not accessible if you've made further modifications. Remove the custom ad blocker rule(s) and the page will load as expected.