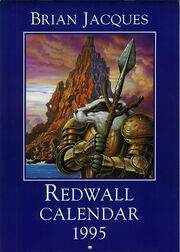 The Redwall Calendar 1995 was published in 1994 as an accessory to the Redwall series. It was illustrated by Chris Baker, Pete Lyon and Douglas Hall, and was originally sold for £5.99 in the UK, Australia, New Zealand and South Africa.
Summary
The calendar contains a color illustration and a related quote from Redwall series books for each month of the year 1995. It is currently out of print, and considered extremely rare.
The month-book setup is as follows:
Feature
This item was featured in the Redwall Collectors Community series.
Ad blocker interference detected!
Wikia is a free-to-use site that makes money from advertising. We have a modified experience for viewers using ad blockers

Wikia is not accessible if you've made further modifications. Remove the custom ad blocker rule(s) and the page will load as expected.