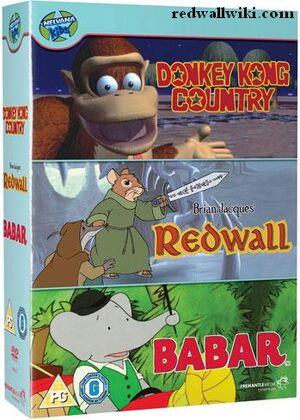 The Redwall TV Series has been included in two separate DVD collections released exclusively in the UK for Region 2 DVD audiences.
3 Favourite Action Heroes Collection
The 3 Favourite Action Heroes collection was released on March 22, 2004, and included Redwall, the European animated series Action Man, and an animated version of The Legend of Sleepy Hollow. Some DVD releases may have included Butt-Ugly Martians instead of Redwall.
Nelvana Kids - Boys Collection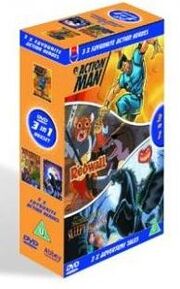 On September 8, 2008, Fremantle Home Entertainment released several Nelvana shows together entitled the Nelvana Kids - Boys Collection. It included Redwall, the Donkey Kong Country animated series, and Babar.
Only the first three episodes of Redwall - Season 1 are included, Cluny the Scourge - part I, Cluny the Scourge - part II and Treachery.
Ad blocker interference detected!
Wikia is a free-to-use site that makes money from advertising. We have a modified experience for viewers using ad blockers

Wikia is not accessible if you've made further modifications. Remove the custom ad blocker rule(s) and the page will load as expected.