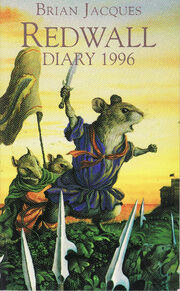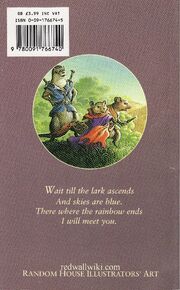 The Redwall Diary 1996 was published by Hutchinson and Random House UK in July 1995 as an accessory to the Redwall series.
Summary
The diary was designed to appeal to young girls and boys. It featured extensive artwork captioned with quotes from the novels. There is a small spot for writing every day starting December 25 1995 and ending January 5 1997. The diary is currently out of print, and is considered extremely rare.
Artwork in the diary was courtesy of Chris Baker, Pete Lyon and Allan Curless. It is not the same item as the later released A Redwall Journal.
Feature
This item was featured in the Redwall Collectors Community series.
Ad blocker interference detected!
Wikia is a free-to-use site that makes money from advertising. We have a modified experience for viewers using ad blockers

Wikia is not accessible if you've made further modifications. Remove the custom ad blocker rule(s) and the page will load as expected.