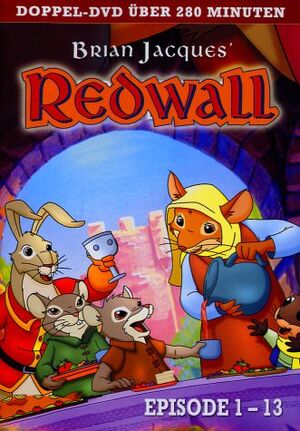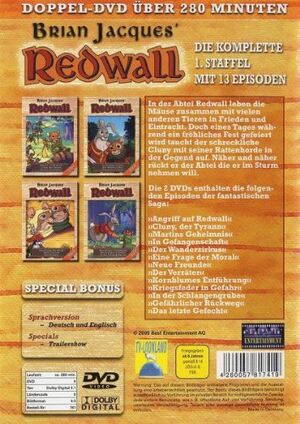 The Redwall Doppel DVD is a two-disc DVD set of season one of the Redwall TV Series. Episodes 12 and 13 appear here, whereas they do not appear on other separate German DVD releases.
The official product summary is as follows:
In der Abtei Redwall leben die Mäuse zusammen mit vielen anderen Tieren in Frieden und Eintracht. Doch eines Tages, während ein fröhliches Fest gefeiert wird, taucht der schreckliche Cluny mit seiner Rattenhorde in der Gegend auf. Näher und näher rückt er der Abtei, die er im Sturm nehmen will.
Episodes
Features
German & English language
Trailer
Ad blocker interference detected!
Wikia is a free-to-use site that makes money from advertising. We have a modified experience for viewers using ad blockers

Wikia is not accessible if you've made further modifications. Remove the custom ad blocker rule(s) and the page will load as expected.