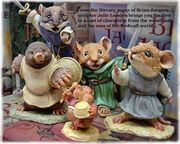 In 1998 Julie London, an American sculptor, released a series of figurines based on characters from various Redwall novels after being licensed by Random House. Some were based on Troy Howell's cover designs and others were from her own imagination inspired by the pages she read. London sculpted more than the five her company Second Story Studios produced, but she settled on those five to make the first series of with the approval of Brian Jacques, who enjoyed the figurines. Mariel and Tramun Clogg were to follow, and were not included in the final set.
They were originally available for purchase at http://members.aol.com/redwallian/micehome.html.
The figurines are still available, but considered extremely rare. According to the website, the Matthias and Martin the Warrior figurines are completely sold out, and there are limited quantities of the Laterose, Grumm and Bungo figurines.
As of 2012, Julie London resides in California.
Quantities and original prices of the figurines are as follows:
Martin the Warrior: 7,500 made; original price - $48
Matthias: 7,500 made; original price - $42.50
Laterose: 5,000 made; original price - $32.50
Grumm: 5,000 made; original price - $28.50
Bungo: 5,000 made; original price - $18.75
External Links
Ad blocker interference detected!
Wikia is a free-to-use site that makes money from advertising. We have a modified experience for viewers using ad blockers

Wikia is not accessible if you've made further modifications. Remove the custom ad blocker rule(s) and the page will load as expected.