Over the years, several collections of the Redwall books have been released, some as gift sets.
The Redwall Trilogy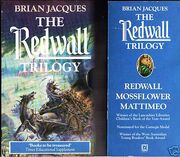 The first collection of books was entitled The Redwall Trilogy; it was released October 17th 1991 in the UK by Red Fox. It consisted of Redwall, Mattimeo, and Mossflower in paperback format.
The Redwall Gift Set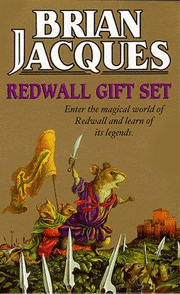 The Redwall Gift Set was first released Oct. 7 1999 by Red Fox also exclusively in the UK. It contained 3 Redwall books in paperback: Martin the Warrior, Mossflower, and Outcast of Redwall.
The Redwall Collection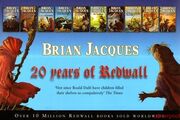 Sometime after Taggerung was published in 2001, another Redwall Gift Set was released by Red Fox called The Redwall Collection. It contains the following 10 books in paperback: Redwall, Martin the Warrior, The Bellmaker, Outcast of Redwall, Pearls of Lutra, The Long Patrol, Marlfox, The Legend of Luke, Lord Brocktree and Taggerung.
This collection was re-released circa 2006-07 for the 20th Anniversary of Redwall.
Redwall Russian Gift Set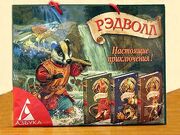 In 2002, a similar Gift Set was released in Russia, containing Mattimeo, Redwall, and Mossflower. Strangely, the cover features Sunflash the Mace from Outcast of Redwall, yet the book isn't included with the package.
Redwall US 20th Anniversary Gift Package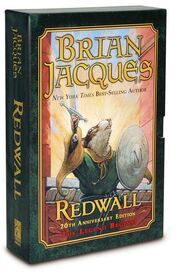 For the 20th Anniversary of Redwall in 2007, a special gift package was released in the US. Contents include the three 'books' of the story, a complete set of Redwall Collector Cards and a Redwall poster.
Japanese Redwall Legend Box Set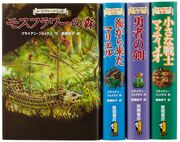 The Japanese Redwall Legend Box Set - レッドウォール伝説セット(全4冊) is a four volume collection consisting of Redwall, Mattimeo, Mossflower, and Mariel of Redwall, released in April 2009.
Ad blocker interference detected!
Wikia is a free-to-use site that makes money from advertising. We have a modified experience for viewers using ad blockers

Wikia is not accessible if you've made further modifications. Remove the custom ad blocker rule(s) and the page will load as expected.