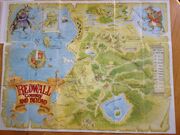 The Redwall Map and Riddler was published in 1998 as an accessory to the Redwall series.
Summary
This guide features a full size map poster covering the topography of all the places discussed in the Redwall series up until The Long Patrol. While now outdated, it is still an invaluable tool for comparing the locations of the older books. The map was drawn by Chris Baker.
Also featured is a booklet containing a series of questions and word puzzles to test your knowledge of the series; illustrations of chapter icons by Allan Curless are included here.
Ad blocker interference detected!
Wikia is a free-to-use site that makes money from advertising. We have a modified experience for viewers using ad blockers

Wikia is not accessible if you've made further modifications. Remove the custom ad blocker rule(s) and the page will load as expected.