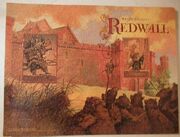 The Redwall Puzzle was released in 1999 by HearthSong as an accessory to the Redwall series.
It was a 500-piece 18x24 jigsaw puzzle consisting of the original 1986 Redwall cover by Troy Howell.
While the puzzle was released in 1999, the box only mentions the first nine novels, the last of which was Pearls of Lutra, which was published in 1996.
The Redwall Puzzle is currently out of production, and is very difficult to find.
Box Description
This puzzle has been inspired by the bestselling Redwall series of adventure novels, created by author Brian Jacques. Thousands of Redwall fans worldwide avidly follow the legends of Redwall Abbey, and the heroic exploits of the animal creatures who dwell there. The nine volumes, which can be read in any order, offer powerful tales of fantasy, adventure and mystery, teeming with riddles, humor, songs and stories. Jacques is a master storyteller, with a captivating style that at times keeps young readers up half the night turning page after page! Recommended for ages 10 to adult, the Redwall tales make excellent read-aloud books for parents and children to enjoy together.
Ad blocker interference detected!
Wikia is a free-to-use site that makes money from advertising. We have a modified experience for viewers using ad blockers

Wikia is not accessible if you've made further modifications. Remove the custom ad blocker rule(s) and the page will load as expected.