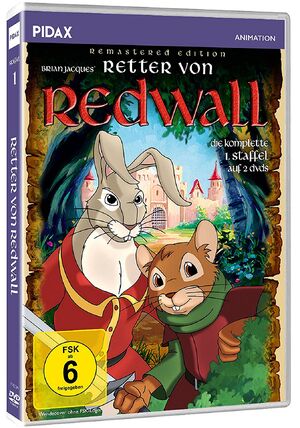 Retter von Redwall - Staffel 1 is a remastered edition of German DVDs that contain Season 1 of the Redwall TV Series.
The official product summary is as follows:
In der Abtei Redwall lebt der Mäuserich Matthias als Novize. Als Kind war er der Ratte Cluny entkommen, einem Tyrannen, der damals gemeinsam mit seiner Gefolgschaft in den Mossflower Wald kam. Matthias konnte flüchten, seine Familie fiel Cluny zum Opfer. Der Mäuserich nimmt sich die Maus Martin zum Vorbild. Die war ein großer Krieger und hatte später Redwall gegründet. Als Cluny eines Tages wieder auf der Bildfläche erscheint, um den Wandteppich im Kloster zu ergattern und Familie Wühlmaus als Geisel nimmt, wittert Matthias seine Chance...
RETTER VON REDWALL ist eine Animationsserie für ältere Kinder, die mit packenden Szenen, einer geschickt gestrickten Story und einer phänomenalen Musikuntermalung punktet. Die Reihe basiert auf dem erfolgreichen Buchzyklus REDWALL von Brian Jacques, die zum Bestseller wurde.