Sesstra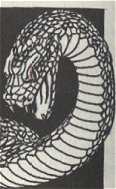 Sesstra was the adder daughter of Berussca. She was bound to her brothers Zassaliss and Harssacss by the mace and chain of King Sarengo. She lived in Brockhall before being killed by Shogg.
Trivia
Sesstra and Berussca are the only named female adders in the series.
Ad blocker interference detected!
Wikia is a free-to-use site that makes money from advertising. We have a modified experience for viewers using ad blockers

Wikia is not accessible if you've made further modifications. Remove the custom ad blocker rule(s) and the page will load as expected.