Ad blocker interference detected!
Wikia is a free-to-use site that makes money from advertising. We have a modified experience for viewers using ad blockers

Wikia is not accessible if you've made further modifications. Remove the custom ad blocker rule(s) and the page will load as expected.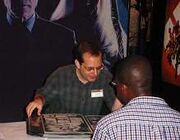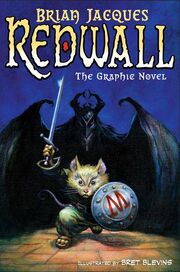 Stuart Moore is the writer for the adaptation of Redwall to a graphic novel, illustrated by Bret Blevins.
Moore has worked in the comics industry for years, primarily as an editor. He co-founded the Helix and Vertigo imprints of DC, and won the Will Eisner Award for Best Editor 1996, as well as the Don Thompson Award for Favorite Editor in 1999.
From 2000 on, Moore edited the Marvel Knights imprint for Marvel, and resigned in 2002 to pursue a career mainly in writing. He is liberal in terms of U.S. politics.
Works
The Children's Crusade #1 (1993)
Transmetropolitan Vol. 1: Back on the Street (1998)
Zendra 1.0: Collocation (2002)
Zendra 2.0: Heart of Fire (2003)
Giant Robot Warriors (2003)
Lone (2004)
Michael Chabon Presents...The Amazing Adventures of the Escapist Volume 2 (2004)
X-MEN UNLIMITED # 12 (2005)
American Meat (2005)
WOLVERINE # 41 (2006)
JSA Classifed #10 (2006)
Earthlight 1 (2006)
Reality Bites (2006)
Firestorm: Reborn (2007)
Earthlight 2 (2007)
Redwall: The Graphic Novel (2007)
External Links