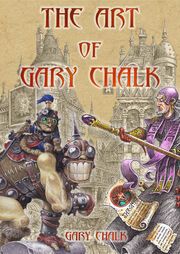 The Art of Gary Chalk was to be a selection of artwork from illustrator Gary Chalk's career, including contributions related to the Redwall series, Sundered Lands, Gun Dogs, and Lone Wolf.
It began as a Lone Wolf Kickstarter campaign reward in 2014 - for a $30 pledge, a project backer would receive a signed copy of this book.
Originally scheduled for publication by Greywood Publishing on November 7, 2015, the book was continually delayed until on October 4, 2016, the shelving of the book was announced until later in Gary's career.
As of February 25, 2016, the book was incomplete, with no Redwall artwork ready for it.
As of June 2016, Greywood Publishing and Megara Entertainment spent all of the Kickstarter money, and seemingly, the book will never see the light of day, becoming an unfulfilled project reward.
In July 2016, Megara Entertainment became the official license holder for Lone Wolf, with Greywood Publishing having no more involvement.
Ad blocker interference detected!
Wikia is a free-to-use site that makes money from advertising. We have a modified experience for viewers using ad blockers

Wikia is not accessible if you've made further modifications. Remove the custom ad blocker rule(s) and the page will load as expected.