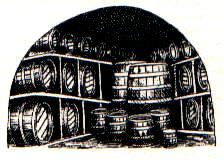 The Cellar is a region of Redwall Abbey where all the ales, cordials, fizzes and other drinks consumed by Abbey residents are stored. Resident cellarmasters and brewers carefully prepare and monitor these wonderful beverages, which add to the pride and fame of the Abbey. The Cellar is described as having a "little forge" in the time of Rakkety Tam.
Cellarmasters
Edit
Cellarmasters are generally hedgehogs or moles. Quite often the title of Cellarmaster becomes a family trade, passed on from generation to generation.
Here are the known Cellarmasters in chronological order.