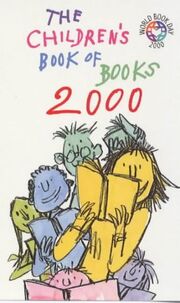 The Children's Book of Books 2000 is a paperback featuring short stories and poems issued to celebrate UK World Book Day 2000.
Along with authors Richmal Crompton, Helen Dunmore, Joan Aiken, Roald Dahl, Michael Rosen, Geraldine McCaughrean, Henrietta Branford, and Vivian French; Brian Jacques made a contribution to the book.
Stories are as follows:
William's Birthday by Richmal Crompton (adapted by Martin Jarvis)
Little Red Riding Hood and the Wolf by Roald Dahl
Aliens don't eat bacon sandwiches by Helen Dunmore
The Gift Pig by Joan Aiken
Into the dark by Henrietta Branford
My brother gets letters by Michael Rosen
The gulf by Geraldine McCaughrean
The boy who walked on water by Vivian French

Promotional copy for the book:
"Hidden talents, alien invasion, magic, humour and bravery are all here in these stories and poems written by some of our best-known and best-loved authors."
Bridgey
Brian Jacques contributed the story Bridgey, which also appears in Seven Strange and Ghostly Tales.
Release details
Ad blocker interference detected!
Wikia is a free-to-use site that makes money from advertising. We have a modified experience for viewers using ad blockers

Wikia is not accessible if you've made further modifications. Remove the custom ad blocker rule(s) and the page will load as expected.