Ad blocker interference detected!
Wikia is a free-to-use site that makes money from advertising. We have a modified experience for viewers using ad blockers

Wikia is not accessible if you've made further modifications. Remove the custom ad blocker rule(s) and the page will load as expected.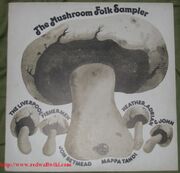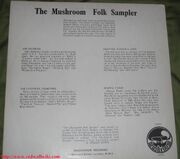 The Mushroom Folk Sampler LP was a 12in 33RPM Stereo LP released in 1971 by the Mushroom Records UK record label to showcase various musicians on their roster.
The sampler included the Liverpool Fishermen; Jon Betmead; Heather, Adrian, & John (Heather Smith, Adrian Bell, John MacDonald); and Mappa Tandi (Pat Ludford and Jim Kenealy). The track "Maid Of Fife" by the Liverpool Fishermen IS NOT on their other LP, Swallow the Anchor.
Recorded at: Chalk Farm Studios Limited, England, October 25, 1971
Matrix #s:

Side 1: 100 MR 16A
Side 2: 100 MR 16B
Tracklisting
Side A
(Title - Composer - Artist)
Dandelion Blues - Williamson - Jon Betmead
Winding Boy - Morton - Jon Betmead
Playboys & Playgirls - Dylan - Jon Betmead
Woman Sweeter Than Man - Bosworth - Heather, Adrian & John
Lark In The Morning - Trad.Arr.Smith - Heather, Adrian & John
Seth Davy - Glymhaghas - Heather, Adrian & John
Side B
(Title - Composer - Artist)
Yate's White's Blues - Jacques - Liverpool Fishermen
The Ould Triangle - Behan - Liverpool Fishermen
Maid Of Fife - Trad.Arr.Fishermen - Liverpool Fishermen
Home Boys Home - Trad.Arr.Fishermen - Liverpool Fishermen
Quar Bungle Rye - Trad.Arr.Mappa Tandi - Mappa Tandi
Mrs. McGrath - Trad.Arr.Mappa Tandi - Mappa Tandi
Hi Germany - Trad.Arr.Mappa Tandi - Mappa Tandi
Spanish Lady - Trad.Arr.Mappa Tandi - Mappa Tandi