The Redwall Adventures Webring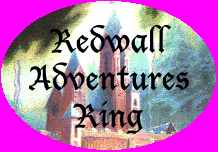 The Redwall Adventures Webring
| | |
| --- | --- |
| Lead Administrator: | Kelly |
| Status: | Offline |
| Foundation: | Late 1990s |
| Cessation: | Early 00s |
| Updates: | Offline |
| Main Language: | English |
| Type of Site: | Webring |
The Redwall Adventures Webring was founded in the late 1990s by Kelly. The main site was located at http://www.geocities.com/EnchantedForest/Dell/2442/rw-ring.html, with the webring itself hosted on webring.org, http://www.webring.org/cgi-bin/webring?ring=redwall;list.
During this time on the internet, Webrings were popular structures for connecting websites with similar interests or themes.
The Redwall Adventures Ring connected over 65 websites.
Prominent ROC Sites included in the Redwall Adventures Webring
Faces of the Redwall Adventures Ring
Ad blocker interference detected!
Wikia is a free-to-use site that makes money from advertising. We have a modified experience for viewers using ad blockers

Wikia is not accessible if you've made further modifications. Remove the custom ad blocker rule(s) and the page will load as expected.