Ad blocker interference detected!
Wikia is a free-to-use site that makes money from advertising. We have a modified experience for viewers using ad blockers

Wikia is not accessible if you've made further modifications. Remove the custom ad blocker rule(s) and the page will load as expected.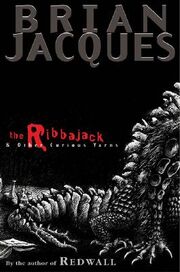 The Ribbajack & Other Curious Yarns is a collection of six short stories by Brian Jacques, following in the tradition of Seven Strange and Ghostly Tales.
Oddly, the US paperback version is entitled The Ribbajack & Other Haunting Tales.
Summary
The Ribbajack
A Smile and a Wave
The All Ireland Champion Versus the Nye Add
The Mystery of Huma D'Este
Miggy Mags and the Malabar Sailor
Rosie's Pet
Release details
2004, US, Philomel Books, ISBN 0399242201, Pub. Date: May 2006, Hardcover
2006, US, Penguin Books, ISBN 0142403784, Pub. Date: August 2006, Paperback
2006, UK, Penguin Books, ISBN 0141321660, Pub. Date: Sept. 2006, Paperback