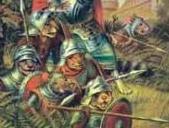 The Thousand Eye Army was first commanded by Verdauga Greeneyes, and then Tsarmina Greeneyes. They lived in the castle Kotir. The army were uniformed, but often scruffy, unorganized, and lethargic. The army was commanded by wildcats but composed of many vermin species.
Under the reign of Verdauga, the woodlanders lived next to Kotir, providing the soldiers with food in exchange for "freedom." However, when Verdauga fell ill and Tsarmina took over, many woodlanders were forced to give up almost all of their food to the army, and were used as slaves. They fled to the refuge of Mossflower Woods, and the supplies for the soldiers began to run out quickly. Many of the soldiers of Kotir rapidly thinned and a mutinous mood often hung over Kotir.
Under the reign of Tsarmina, Bane arrived with a group of well-trained and successful mercenaries, who aided Kotir. After being defeated by the woodlanders in a war during which many of the soldiers died due to flooding and attacks, the army was banished from Mossflower. The following consists of known members.
Captains
Soldiers
Allies
Mercenaries
After Bane's death, his followers were inducted into the main army.
Books
The Thousand Eye Army appears in Mossflower.
Trivia
The Thousand Eye Army originally consisted of weasels, stoats and ferrets. After Bane and his mercenaries joined, foxes and rats also became part of the army.
Ad blocker interference detected!
Wikia is a free-to-use site that makes money from advertising. We have a modified experience for viewers using ad blockers

Wikia is not accessible if you've made further modifications. Remove the custom ad blocker rule(s) and the page will load as expected.